The Premium Suite
One/Two Bedroom Residences
The Premium Suite (option of one-bedroom or two-bedroom) provides the perfect homely comfort of a private residence in the centre of Ayia Napa. A superb living space for couples, friends or families.

The Superior Suite
Two Bedroom Residences
This highly sought after Suite has been specially designed for a feeling of grandeur and space. The impressive balcony provides stunning views of the main avenue, perfect for people watching with a glass of wine..
The Luxury Suite
Three Bedroom Residences
The most desirable suite of all The Luxury Suite embodies all that luxurious living has to offer. The huge private patio with spectacular views of Cape Greko is perfect to entertain guests for dinner & cocktails. Ideal for large groups or families.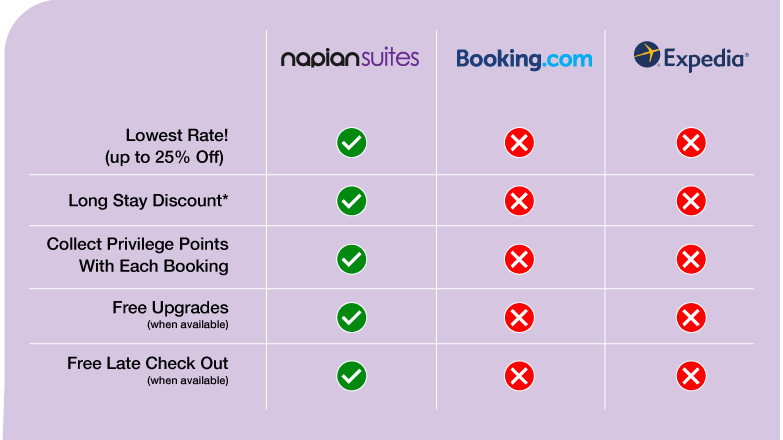 Lowest Rates / Secret Offers / Free Upgrades
— Your Suite Spot —
Napian Suites in Ayia Napa is an elegant and intimate collection of residencies in the most desired location of Agia Napa. This exclusive complex comprises eight beautifully designed suites that provide guests with a tranquil and personal living space, all within a private & secure environment. All Napian Suites have private balconies with side sea-views overlooking Agia Napa's main Avenue with its glittering night-life. The Suites were specially designed by a renowned interior designer to offer a private enclave right in the heart of the town, where the exciting attractions and beautiful beaches are literally just a few steps away.
Our suites are not standard sized hotel rooms, they are full sized residencies! A literal Home Away From Home.
These residencies offer an impressively spacious and fully furnished living area, floor-to-ceiling double glazed windows, open plan kitchen, elegant dining area, modern bathroom with jet powered showers, LCD TV Screens with SATELLITE system, generously sized bedrooms and private balconies. Agia Napa hotel living has never felt so much like "home suite home!"
"I couldn't believe how big they were! It was the perfect holiday home for our large group. The location was amazing. Thank you for making our experience spectacular!"
Joanne - Essex, UK.
June 2018